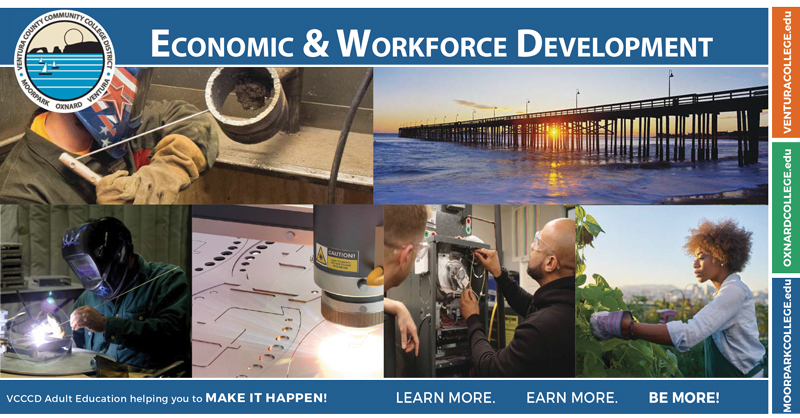 Mission
Our mission is to serve Ventura County employers and workers by building strategic partnerships that best suit your needs. We accomplish this by providing quality, low-cost corporate and community learning opportunities. We use various educational platforms to deliver instruction and training across Ventura County. This includes custom training by cohort, adult education integrated education and training, pre-apprenticeships, and connectivity to apprenticeship training at the three community colleges within the district.

The division also provides added capacity to Ventura County Community College District by providing labor market analysis for program development in high-impact industries and occupational clusters. Please visit our Labor Market Research page for access to industry and labor reports. Customized research is also available through division upon request.
Community Education
As modern society has evolved, so have the educational needs of our community. In effort to effectively serve the greater Ventura community, the Economic & Workforce Development Division provides Pre-apprenticeship education in association with our local unions and industry partners, and Adult Education programs, seeking to create greater access to quality education and training for all community members.

Our target population is the non-traditional student, or below post-secondary adults with barriers to employment. These programs use the "not-for-credit" platform to create college and career pathways for these community members using Pre-apprenticeship programs and Integrated Education and Training through Adult Education.

These students receive job placement services and educational support services as they move into employment and continue through their educational path. Instilling a culture of lifelong learning is a priority, thus we expose all students to collegiate programs of study in their career pathways as they move through training, and provide increased access by having them register in CCC Apply.
Upcoming Training Opportunities
Contact Information

Location: 761 E Daily Dr, Camarillo, CA 93010
Phone: 805-289-6004
Email: econdev@vcccd.edu

Staff Directory

Cynthia Herrera
Dean of Strategic Partnerships and Planning
P: 805-652-5516
E: cynthia_herrera@vcccd.edu

Holly Correa
Program Director I, Adult Education
P: 805-652-5514
E: hcorrea@vcccd.edu
Daniel Rangel
Administrative Assistant
P: 805-652-5574
E: drangel@vcccd.edu
Jessica Lau
Accounting Technician
P: 805-652-5549
E: jlau@vcccd.edu