The Moorpark College Foundation is a nonprofit, tax-exempt auxiliary organization which accepts and solicits gifts, donations, trusts, and bequests for college related use. It provides tax deductible advantages to the donor. It also provides a method for the college to interact with businesses, government, and other nonprofit agencies in the broader Southern California community.

The mission of the Oxnard College Foundation is to provide support to campus development, student scholarships, educational programs, and other college needs in order to promote the progressive and continuing advancement of Oxnard College, to further educational excellence and enable the college to serve as an exemplary multi-cultural community resource.

The Ventura College Foundation provides financial support to the students and the programs of Ventura College. Through this support, the Ventura College Foundation assists the College in facilitating student success and grows the impact and legacy of Ventura College as a vital community asset.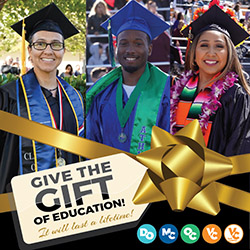 Give a gift with lasting impact:
A gift of education – it will last a lifetime. When you make a donation to Moorpark College Foundation, Oxnard College Foundation or Ventura College Foundation, you're giving thousands of students a bright future, and supporting your community.